Website Case Study
Hospitality Recruiters - Hooksett, NH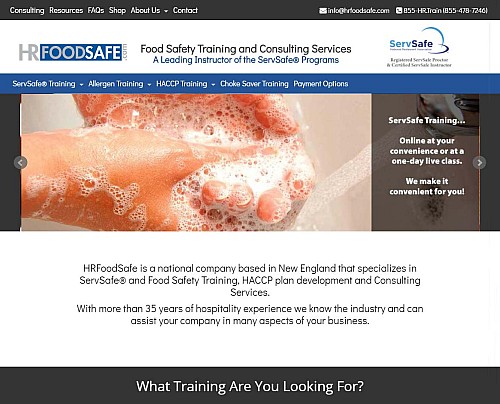 $$ 2017
Hospitality Training Website Featuring Interactive Forms and Databases
Hospitality Recruiters is in the business of training people for ServSafe courses, finding them jobs and helping hospitality clients find good workers.
One of their challenges was their class schedule. We built a robust web application that allows them to manage locations and class dates. This not only ties into their class schedule page, but, to the registration forms as well. A database to handle their job postings was also built, tying onto a form that also allows uploads of resumes.
Finally, a news/article management system built by us is in place, replacing the need to install a third-party Content Management System, like WordPress, eliminating all the limitations and overhead of such systems.
UPDATE 2017
After monumental growth of business since we the first web site in 2015, we performed a re-design, and updated and upgraded some scripting to make it even better. Client is thrilled with the rate the company is growing.
Written with PHP, MySQL, JQuery and Ajax.
The new design features RWD (Responsive Web Design).
View The Hospitality Recruiters Web Site