Website Case Study
Burkart - Shirley, MA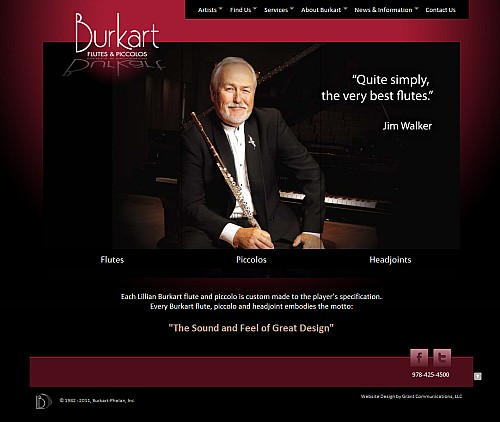 $$$$ 2011
Burkart expects the best in their flutes and piccollos, and their web site too
We were contracted by Grant Communication to do the design, layout, coding and production for this web site. Needless to say, the World's foremost flute and piccollo maker is quite demanding. They had a vision for their site, and wanted a level of quality to match their products.
The home page features a striking image of a well known player, with an unusual mouse over which generates a menu for that area and related photo. The web site also features a unique tool tip system, an interesting timeline done mainly with CSS for their history, as well as, a DB driven list of dealers. The web site checks the IP address and delivers the dealers particular for that country.
The web site uses PHP, CSS3, HTML5, Jquery and MySQL.
View The Burkart Web Site